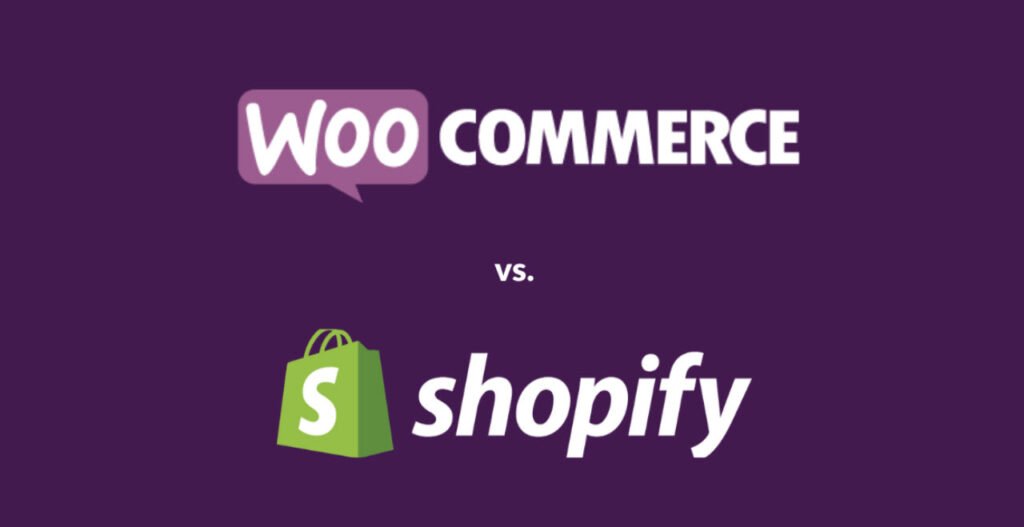 You are ready to build and operate your online e-commerce store, whether you can add a new sales channel or start your business. You narrowed down the possibilities for both WooCommerce and Shopify, but it's not clear which one will make more money. !
Depending on the experience of creating sites, availability of time, and of course your budget, one option is probably better for you than the other.
In order to decide which one it is, we have thoroughly researched and tested both e-commerce platforms.
The right choice will definitely save you a lot of time and money, so read this in-depth review carefully to find out which CMS (Shopify or WooCommerce) is the best choice for your online business.
[#] Shopify Review –
There is no doubt that Shopify is easier to get started where as WooCommerce is a little trickier. Shopify platform includes everything you need in one package. However, since WooCommerce is one of the most popular WordPress plugin, you need to get to know WordPress before you can even learn how to use WooCommerce.
In Shopify, you simply need to enter some basic account information and the store will be created for you and takes hardly less than 2 minutes to setup all.
After logging in, you will be prompted to add the first product.
The product editor is intuitive to use and focuses primarily on adding the Product title, Product description, Product images and Tags.
If you scroll down from the main fields, there are more advanced options that allow you to set pricing, inventory, shipping (and customs), and variations (i.e., different colors or sizes).
You can return to this page to edit at any time.
Each product you create gets its own product page listing where visitors can shop. You can also add different products to a "collection" (with your own page) so that visitors can browse multiple products at once.
Shopify also keeps you to track of all your inventory when you sell your products. You can visit the inventory menu at any time to see what's left of each product.
[#] WooCommerce Review –

If you've used WordPress before, it's not too hard to get started with WooCommerce. But if you haven't already, you'll need to register a WordPress.com account first, or enrich your own version of WordPress on your own.
You will then need to install the WooCommerce software from the "Plugins" store.
Suggested Read: 100+ WordPress Alternatives CMS (Content Management Systems)
It is then activated, with two new menu items appearing ("WooCommerce" and "Products") , along with all existing WordPress menu items. There are a limited number of sections in the WooCommerce menu items, but they are quite understandable.
You will also see some orange and red messages alerting you to any required settings to change or update.
Adding a product from this moment is very similar to adding products in Shopify. Use the "Products" menu item to add a product that opens an editor similar to the classic WordPress classic editor. Just enter a name, description, category and picture if you want.
Scroll down to set up your inventory and shipping options, just like same as Shopify.
In the end you get a simple product page. The product appears on each category page to which it is assigned.
WooCommerce is a bit behind on product management, the way there is no way you can see all the stocks at once. There are extensions that allow this, but you have to pay for it.
List of all WooCommerce extensions developed by WOO
And the winner…
Shopify! It's very easy to get started with Shopify and includes all the essentials without having to install additional plugins or extensions. WooCommerce takes a little longer to get started, especially if you're not used to WordPress yet.
Shopify provides you with additional e-commerce services by default. Although both platforms have extensive plugin libraries, they can be installed to add almost any functionality you need such as SEO, Google Analytics etc, it's always better to have important features built in .
This way, you don't have to worry about additional renewal costs, and you can save time by spending time finding the right extension.
| | WooCommerce Features | Shopify Features |
| --- | --- | --- |
| 1 | Unlimited number of products | Unlimited number of products |
| 2 | Automatic tax calculator | Automatic tax calculator |
| 3 | Financial and Customer reports | Financial and Customer reports |
| 4 | Blog post and page creator (WordPress) | Blog post and page creator (Shopify) |
| 5 | Unlimited space (WordPress.com's Business Plan) | Unlimited hosting and bandwidth |
| 6 | | Free SSL Certificate |
| 7 | | Fraud Analysis |
| 8 | | POS (Point of Sale) for personal sale |
| 9 | | Marketing Campaign Support |
Shopify has all the basics an online store may need at first where as WooCommerce offers a lot for a free plug-in, but you may find that some important features are missing such as SSL Certificate, Fraud analysis etc.
Again, there are extensions that you can install to access additional features. Adding additional plugins is simply inconvenient and often comes at an additional cost and will eventually increase the loading speed of your site.
And the winner…
Shopify again. Whatever business you are dealing with, you will find everything you need based on the Shopify plan you choose. Although WooCommerce includes many basics, you may need to contact the plug-in store to access important features.
Shopify 10X offers as many themes as WooCommerce. Both platforms offer free and paid website themes to help you choose the layout and look of your store.
The Shopify theme store has 10 free themes and just over 60 paid themes available. You can filter these in the store by industry (e.g. art, clothing, furniture, etc.), price, number of existing products and more:
Some were designed by Shopify developers, while others were designed by third-party web developers who create themes specifically for Shopify stores.
The free themes are high quality and enough to get you started. however, they are also the most popular themes (because they are free), so a lot of Shopify stores use them and end up looking the same.
Eventually, you'll probably end up wanting to buy a paid theme that will cost you under $100-$200.
That's not much of a choice.
WooCommerce offers the basic theme of "Storefront" for free. You can then install a child theme on top to further shape the design. Some of these are free, while others cost about $30 – $40 a year which comes with support and upgrades.
You should also consider that WooCommerce is compatible with typical WordPress themes. There are thousands of themes on sites like ThemeForest, Envato and TemplateMonster designed for online stores.
So there are too many choices in the theme store. The downside to choosing external themes is that it is not specifically designed for WooCommerce and does not receive support from WooCommerce developers.
And the winner…
Shopify, once again. Shopify has a much larger selection of themes, all designed for Shopify stores. While WooCommerce may work with third-party WordPress themes, you may not make the most of the features WooCommerce offers, and the quality of support you receive can vary a lot.
The cost of Shopify is easier to predict, but not always lower. In terms of cost, it's hard to tell which platform is better. Depending on several factors, Shopify or WooCommerce may be cheaper for you.
So let us break down the potential costs you may incur and add up those that apply to your business.
[#] Shopify Plans –
Shopify offers three basic plans, each with a monthly fee.
The higher the monthly fee, the lower the processing fees (for credit card payments). Because of this, Shopify is almost always the cheapest option for high-volume sellers .
In addition to processing fees, you may have to pay transaction fees for each sale.
If you use Shopify Payments, which is Shopify's payment processor (powered by Stripe), you don't have to pay a transaction fee. But if you use a third-party processor, such as PayPal, you also pay a percentage of each sale as a transaction fee to Shopify.
The ultimate source of running costs is applications. Sometimes you may need a feature that Shopify does not include by default. You probably have an application that you can install.
Some popular examples of this are advanced SEO applications, email marketing integrations, and product sourcing applications. Some apps are free, but most come with a small monthly fee. Some more complex applications cost up to $ 100 per month.
In summary, to estimate how much Shopify will pay on an ongoing basis, consider:
The cost of the plan
Credit card processing fees
Transaction fees (if you do not use Shopify Payments)
Any special feature that requires an application
[#] WooCommerce Plans –
WooCommerce itself is completely free. However, to install extensions (including WooCommerce) on WordPress.com, you need at least one "business" plan. The business plan and the basic Shopify plan are roughly the same as the cost.
You can integrate with any major payment processor, such as Stripe or PayPal, and processing fees will be similar to Shopify for low-volume sellers . There is nothing like Shopify Payments that gives you big discounts when you are a high volume seller.
There are no transaction fees for WooCommerce, regardless of payment processor.
WooCommerce makes money through the cashier. Extensions/Plugins are the same as "applications" in Shopify. Unless you're just building a basic online store, the basic version of WooCommerce probably won't have enough functionality.
You should connect the affiliate store.
These extensions are not cheap and it seems that some of them need to be in the base product (e.g. "Table Rate Shipping" which provides more flexible shipping options).
You are expected to purchase at least some extensions. Each comes with an annual cost that includes updates and support. Shopify includes many of these in its base product. For example, Shopify integrates with major vendors such as UPS and USPS at no extra cost, but you will need to purchase extensions on WooCommerce:
And the winner…
Local situation. In most cases, they involve similar costs.
Shopify will generally be cheaper because you have to buy quite a few extensions at WooCommerce. Also, for larger volume sellers, Shopify will usually be cheaper as processing rates will decrease as plans are updated.
However, if you are unable to use Shopify Payments (due to preference or are not in a country that you support, WooCommerce will likely be cheaper as you will not have to pay transaction fees.
24/7 Live support vs standard ticket support
You may be frustrated trying to figure out how to do something in your business or run into unexpected problems. Good support is often life-saving .
Shopify offers fantastic support options around the clock which offers 24×7 live support for any plan and you can choose from live chat, email, phone or even on social media such as Twitter.
In our opinion, support is the biggest weakness of WooCommerce and having an adequate knowledge base, but if you really need any help, your options will be limited in WooCommerce.
The best bet is to open a ticket, but there is no guaranteed response time, so you can stick to the answers when your business breaks down and you lose money.
There is a WooCommerce section in the WordPress community forums where you can post issues and comments. However, that forum is not very active and is not a reliable way to solve the problem except Stackoverflow community.
And the winner…
Shopify, and don't even close it. Shopify offers the type of premium, 24-hour support you expect when you pay for a product.
In most cases, Shopify is always the better e-commerce platform . It's easier to use, with more features, better support, and even cheaper than WooCommerce.
But there are three situations where WooCommerce may be the better choice :
You already have a business website on WordPress. If so, you can easily install the extension without having to upload the site.
You don't want to use (or can't) use Shopify payments, and the extra transaction fees incurred make Shopify much more expensive than WooCommerce.
You want to blog a lot. While Shopify offers blogging features, WordPress can't beat blogging and becomes one of the most popular used blogging CMS.