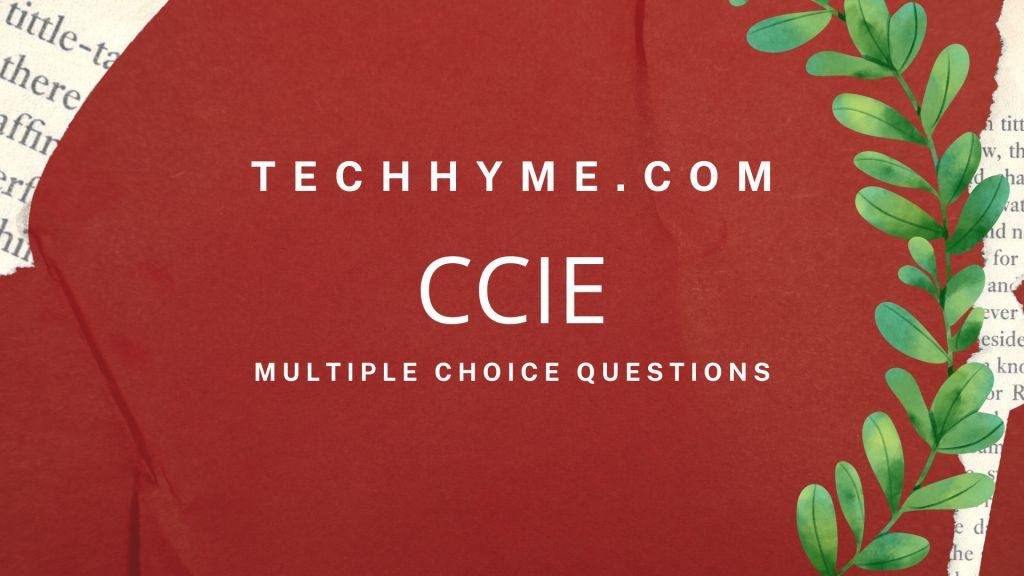 The CCIE Certification is the highest level of achievement for network professionals, certifying an individual as an expert or master. Cisco Systems has since become an unrivaled worldwide leader in networking for the Internet. Its networking solutions can easily connect users who work from diverse devices on disparate networks. Cisco products make it simple for people to access and transfer information without regard to differences in time, place, or platform.
The below listed questions are intended to help you continue on your exciting path toward obtaining your CCIE (Cisco Certified Internetwork Expert) certification. Before looking these questions, it is important to know the basic concepts of CCNA and CCNP.
These articles covers everything you need to pass the CCIE Routing and Switching written exam. Each article contains a set of testing questions along with their answer and explanation.
This article covers: Technology like voice over ATM, voice over frame relay, as well as voice over IP. QoS and RSVP protocols.
1. Which of the following queuing methods can be used with QoS? (Choose all that apply.)
FIFO (First-in-first-out)
WFQ (Weighted-fair-queuing)
Custom queuing
LIFO (Last-in-first-out)
Priority queuing
Answer – B, C, E
Explanation – FIFO and LIFO are not conducive to the QoS policy.
2. What is the A link used for in Signaling System 7 (SS7)?
Associates two COs so they can exchange voice traffic
Connects hierarchical pairs of STPs
Interconnects STPs to an endpoint in the network
Mates two matched pairs of STPs
Answer – C
Explanation – An A link interconnects Service Transfer Points (STPs) to either a Service Control Point (SCP) or a Service Switching Point (SSP), which is the endpoint in a network.
3. What meaning does an IP precedence value of 5 have?
Routine
Flash
Flash Override
Critical
Network
Answer – D
Explanation – All meanings are valid definitions. The meaning of 5 is critical.
4. How much traffic does MP-MLQ produce?
8.3Kbps
16Kbps
6.3Kbps
5.3Kbps
Answer – C
Explanation – ACELP uses 5.3Kbps. The value of 16Kbps is for LD-CELP. 8.3 is not a valid answer.
5. How much traffic does Pulse Code Modulation (PCM) produce?
26.4Kbps
6.3Kbps
64Kbps
32Kbps
Answer – C
Explanation – G.711 uses PCM to produce a 64Kbps stream.
6. Which CODEC is defined by the ITU as the standard H.323/H.324 to encode voice traffic?
G.729
G.711
G.728
G.723
Answer – D
Explanation – Two different methods are defined by G.723, MP-MLQ, and ACELP. Either one works within H.323.
7. Which signaling type will detect a grounded tip within 100ms?
Ground start
Loop start
E&M Type
4 E&M Type 1
Answer – A
Explanation – A ground start trunk will detect a ground tip or ring within 100ms.
8. Which E&M type is most frequently used in North America?
Type 1
Type 2
Type 3
Type 4
Answer – A
Explanation – E&M Type 1 is the most commonly used type in North America.
9. Which of the following is not used for E&M line seizing?
Immediate start
Wink start
Delay start
Loop start
Answer – D
Explanation – Wink, delay, and immediate start are all used by E&M for trunk supervision.
10. What method is used to counteract the effects of jitter?
Priority queuing
Resource Reservation Protocol
IP precedence
Playback buffer
Answer – D
Explanation – A playback buffer smoothes out the effects of jitter by releasing packet to the DSP at a constant interval.
11. What causes jitter?
Transmission rate less than 5.3Kbps
Transmission rate greater than 64Kbps
Changes in the transmission or reception rate
Line interference
Answer – C
Explanation – Fluctuations in the transmission or reception rate cause jitter. It can be transmitted at any supported rate as long as there is no fluctuation.
12. What does Frame Relay Forum 12 (FRF.12) define?
Maximum MTU sizes for Voice over Frame Relay (VoFR)
The VoFR packet format
A router's response to a Backward Explicit Congestion Notification (BECN)
Data frame segmentation
Answer – D
Explanation – FRF.12 is the standard for fragmentation for VoFR.
13. What two methods can you use to enhance the quality of service (QoS) for Voice over IP (VoIP)?
Weighted fair queuing and RSVP
Custom queuing and route maps
RSVP and IP Precedence
Rate limits and access-lists
Answer – C
Explanation – RSVP and IP precedence can be enabled and control under the dial-peer statement.
14. Which command can be used under a POTS dial-peer statement?
session target port
session target DNS
session target VCD
Both A and C
Answer – D
Explanation – You may use either the port or ATM VCD when configuring a POTS dial peer.
15. In a dial-peer statement, which destination pattern will the number 1991 match?
1T
1
199.
1991
Answer – D
Explanation – Options A, C, or D will work, but the router will select D because it is the longest match.
16. What is the default Resource Reservation Protocol setting?
There is no default setting
Best-effort
Controlled-load
Guaranteed-delay
Answer – B
Explanation – Best-effort is the default Resource Reservation Protocol setting.
17. Which of these is not a fixed delay?
Propagation
Serialization
Jitter
Processing
Answer – C
Explanation – Jitter is caused by variations in the delivery rate of the voice stream.
18. G.729 uses which coder type?
PCM
ADPCM
CELP
CSA-CELP
Answer – D
Explanation – G.729 uses CSA-CELP to produce an 8Kbps voice stream.
19. RSVP uses which communication type for path setup?
Multicast
Unicast
Broadcast
SAP
Answer – A
Explanation – RSVP data and paths are obtained via multicast communication. SAP is a Novell protocol.
20. Jitter is determined by examining which RTP packet field?
Marker field
Time-Stamp field
Synchronization Time-Stamp field
Either B or C
Answer – B
Explanation – The Time-Stamp field contains the sampling instant of the first octet of the RTP packet.