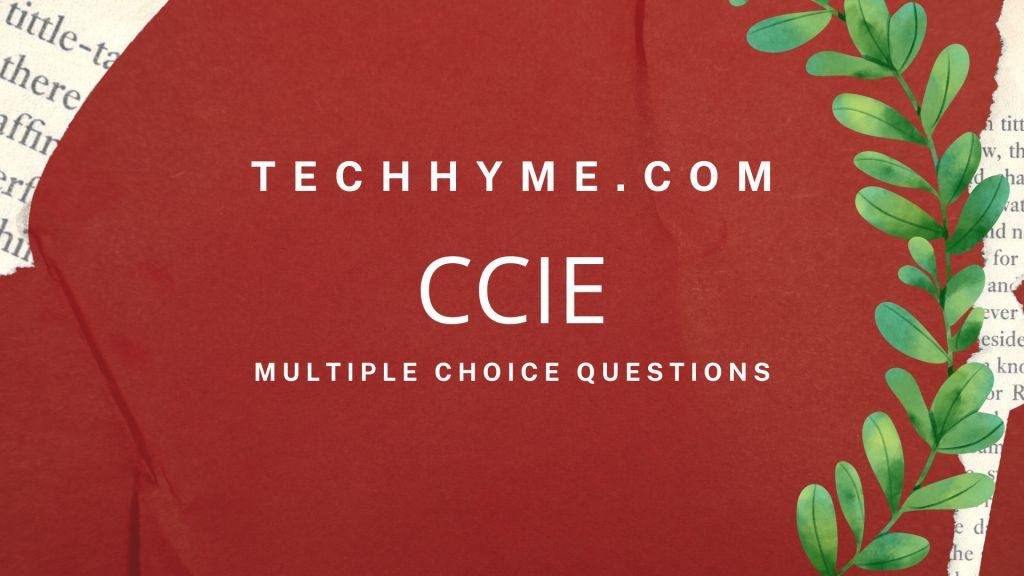 The CCIE Certification is the highest level of achievement for network professionals, certifying an individual as an expert or master. Cisco Systems has since become an unrivaled worldwide leader in networking for the Internet. Its networking solutions can easily connect users who work from diverse devices on disparate networks. Cisco products make it simple for people to access and transfer information without regard to differences in time, place, or platform.
The below listed questions are intended to help you continue on your exciting path toward obtaining your CCIE (Cisco Certified Internetwork Expert) certification. Before looking these questions, it is important to know the basic concepts of CCNA and CCNP.
These articles covers everything you need to pass the CCIE Routing and Switching written exam. Each article contains a set of testing questions along with their answer and explanation.
This article covers: Frame Relay and X.25.
1. Which two frame relay encapsulation types are supported on Cisco routers?
ANSI
q933a
Cisco
IETF
shiva
Answer – C, D
Explanation – The two types that are available are Cisco and IETF. Cisco is the default frame-relay encapsulation type.
2. Which three frame relay LMI types are supported on Cisco routers?
ANSI
q933a
Cisco
IETF
shiva
Answer – A, B, C
Explanation – The three LMI types supported are ANSI, q933a, and Cisco. Cisco is the default LMI type.
3. Your site has a T1 connection to the WAN. The streaming video application you are using periodically requires 100 percent utilization of the T1. Which technology would be best for this application to ensure that no video frames are lost?
Frame relay
X.25
Dedicated circuit
TDM circuit
Not possible
Answer – C
Explanation – Although it may be possible to get X.25 and frame relay to deliver the video, the best way to guarantee 100 percent of the bandwidth with no drops is a dedicated circuit.
4. Your site has a 256Kbps satellite link to the WAN. The circuit will be used by a variety of applications. The main concern is speed of delivery and cost. It is acceptable for some frames to be delayed and even retransmitted. Which technology would best suit this environment?
Frame relay
X.25
Dedicated circuit
TDM circuit
Not possible
Answer – A
Explanation – When cost is a concern, packet-switching technology is the solution. Both X.25 and frame relay are inexpensive, but frame relay is faster.
5. A provider can sell more bandwidth than the actual frame relay network can supply. What is this called?
Illegal
Zero-sum multiplexing
Frame stealing
Over subscription
XOT
Answer – D
Explanation – Over subscription occurs when the combined committed information rate exceeds the backbone capabilities.
6. The first specification to focus on frame relay was primarily about which of the following?
SNA
LAT
TCP/IP
X.25
ISDN
Answer –E
Explanation – Frame relay was first flushed out in an ISDN RFC (Request for Comment).
7. What are the four stages of a frame relay SVC conversation?
Idle
Authentication
Call establishment
Data exchange
Call termination
Answer – A, C, D, E
Explanation – The four stages are (in order) call establishment, data exchange, idle, and call termination.
8. The DLCI is located in the frame relay header. How many bits are in the DLCI?
8
16
32
4
10
Answer – E
Explanation – The DLCI is defined by 10 noncontiguous bits in the header.
9. Your frame relay circuit is installed on a full T1 (1544Kbps). You were told that you would be guaranteed 256Kbps on the circuit. What is your access rate?
Depends on the burst rate
256Kbps
512Kbps
1544Kbps
Not possible to determine from information
Answer – D
Explanation – Access rate is the actual line speed.
10. Continuing with Question 9, you are told your committed rate measurement interval is 10 seconds. What is your burst committed rate?
256Kb
2560Kb
1544Kb
15440Kb
10
Answer – B
Explanation – The burst committed rate is the CIR times the measurement interval. In this case, it is 256Kbps times 10 seconds.
11. Which of the following is a feature of LMI?
Status inquiry
BECN
FECN
CIR
DE
Answer – A
Explanation – Local management interface provides for status inquiry. Inverse ARP provides a mechanism to map DLCIs to IP addresses.
12. Your central site has a single serial connection to the frame relay cloud. You have five virtual circuits from your central site to the remote site. Your remote sites are not receiving routing updates. You suspect a problem with split horizon. What would be a typical solution?
Static routes
Subinterfaces
Disable split horizon
Route filtering
Modify administrative distance
Answer – A, B, C
Explanation – Most IP routing protocols support disabling split horizon; however, IPX RIP and Apple RTMP do not. Static routes are a popular, but inflexible solution. Subinterfaces are the most popular and the best solution.
13. You want to configure your router so that it forwards frames based on their DLCI. What is this process known as?
IP routing
Frame routing
Impossible
Frame switching
Frame tagging
Answer – D
Explanation – Cisco routers can be configured as frame relay switches.
14. For which of the following OSI layers is X.25 defined?
Physical
Data-link
Network
Transport
Session
Answer – A, B, C
Explanation – X.25 is designed for reliability and defines itself at the first 3 layers of the OSI model.
15. Which of the following are physical layer standards for X.25?
V.35
RS-232
X.21
X.21-bis
V.24
Answer – C, D, E
Explanation – Cabling standards occur at the physical layer.
16. In X.25, LAPB is used at what level?
Packet level
Link level
Physical level
Session level
Application level
Answer – B
Explanation – Link access procedure balanced occurs at the link level.
17. In X.25, which of the following occur using PLP?
Call Setup
Data Transfer
Idle
Call Clearing
Restarting
Answer – A, B, C, D, E
Explanation – The packet level protocol is used for all communication management.
18. What is the primary addressing scheme used on an X.25 network?
TCP/IP
X.121
X.25
IPX
ISBN
Answer – B
Explanation – The X.121 is a global standard that uses a 4-digit DNIC identifier and uses 10 or 11 digits for the station ID.
19. What do the first four digits of the X.121 address represent?
DNIC
ISN
PLP
NTN
X.25
Answer – A
Explanation – This stands for Data Network Identification Code.
20. You are installing a network in an area with very poor line quality. Reliability is the primary concern. Which packet-switching technology would be best?
Frame relay
ATM
X.25
HDLC
LAPD
Answer – C
Explanation – X.25 can ensure reliable delivery of traffic even over poor circuits.
21. You have several X.25 devices on your network such as PADs and printers. What Cisco IOS feature would allow the devices to communicate?
IP encapsulation
DLSW
HSRP
X.25 switching
RED
Answer – D
Explanation – Cisco routers can act as an X.25 switch.