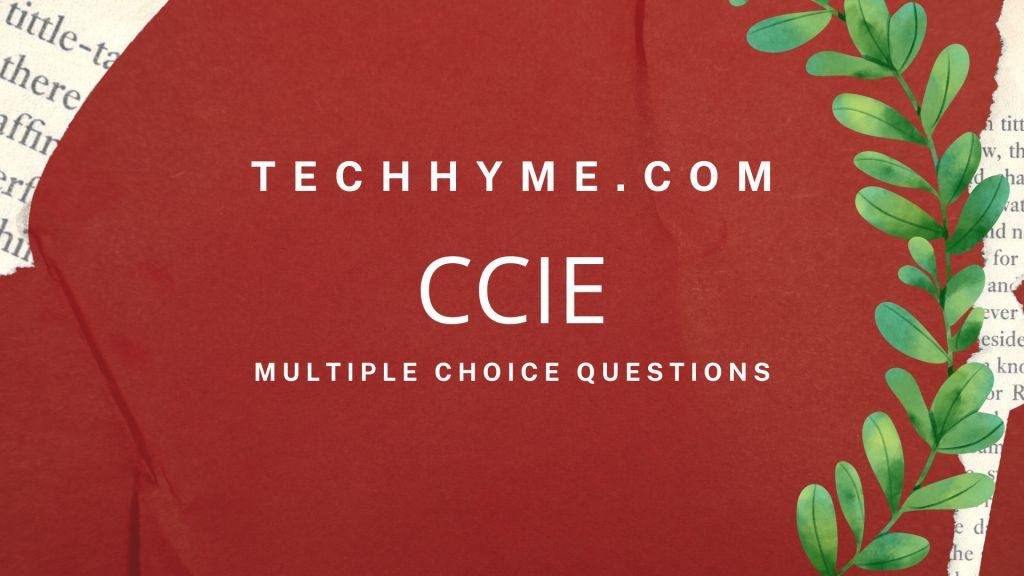 The CCIE Certification is the highest level of achievement for network professionals, certifying an individual as an expert or master. Cisco Systems has since become an unrivaled worldwide leader in networking for the Internet. Its networking solutions can easily connect users who work from diverse devices on disparate networks. Cisco products make it simple for people to access and transfer information without regard to differences in time, place, or platform.
The below listed questions are intended to help you continue on your exciting path toward obtaining your CCIE (Cisco Certified Internetwork Expert) certification. Before looking these questions, it is important to know the basic concepts of CCNA and CCNP.
These articles covers everything you need to pass the CCIE Routing and Switching written exam. Each article contains a set of testing questions along with their answer and explanation.
This article covers: ISDN technology information as well as configuration.
1. What does an NT1 do?
Converts non-ISDN devices into a compatible signal
Consolidates devices onto an ISDN line at a point between LE and TA
Provides the conversion between a bipolar and unipolar signal
Converts the unipolar signal from the NT2 into a bipolar signal before sending it to the network
Answer – C
Explanation – The NT1 converts the telco's 2B1Q signal into a bipolar signal that the NT2 can understand. It also acts as a loopback device for network testing. An NT1's output is also known as the T interface.
2. Which ISDN device refers to a non-ISDN device such as a POTS phone or a fax machine?
NT1
NT2
TA
TE2
Answer – D
Explanation – A TE2 is any non-native ISDN device, such as a POTS telephone or a fax machine. This device requires a TA to interface with the ISDN network.
3. Which reference point is located between an NT1 and NT2?
R
S
T
U
Answer – C
Explanation – The T reference point is between an NT1 and an NT2.
4. Which standard governs the S/T interface?
ITU I.430
ITU Q.931
ITU I.225
ITU E.911
Answer – A
Explanation – Physical interfaces on an ISDN device are governed by ITU standard I.430.
5. How long is the SAPI field?
1 octet
2 octets
3 bits
6 bits
Answer – D
Explanation – The SAPI field is 6 bits. The values transported in the SAPI field identify the type of information in the packet.
6. Which TEI value is used as a broadcast?
Zero
127
64
Z-1
Answer – B
Explanation – The broadcast value TEI is 127, or all ones.
7. Which ISDN call setup message may indicate a ring on the far end?
Alerting
Connect
Connect Acknowledge
Call Proceeding
Answer – A
Explanation – The Alerting message is returned to indicate that the call is proceeding.
8. The Bearer Capability value I=0x888F is which requested service?
Unrestricted Digital Information
Circuit mode, 64Kbps
Layer 1, V.110/X.30
Synchronous, no inband negotiation, 56Kbps
Answer – D
Explanation – This value indicates that the bearing capability is unrestricted digital information. Other options include 0x90, circuit mode, and 0x21 Layer 1, V.110/X.30.
9. Which ISDN switch type requires a Service Profile Identifier (SPID)?
NTT
5ESS
DMS-100
NET3
Answer – C
Explanation – National-1 and DMS-100 switches require a SPID for each B channel, and it is optional with an AT&T 5ESS, but you still may need to set one.
10. An E1-based PRI uses which bits to handle its inband communication?
E bit
There is no in-band signaling with an E1
U bit
D channel
Answer – B
Explanation – Both a PRI and a BRI use inband signaling. Instead, this information is carried over the D channel.
11. Which of these is not a Primary Rate Interface (PRI) switch option?
National-1
DMS-100
4ESS
NET5
Answer – A
Explanation – National-1 is the BRI standard, not a PRI standard.
12. An invalid username and password pair supplied in a PAP packet will result in which type of message?
Code 4, Authentication Mismatch
Authenticate-Ack
Authenticate-Fail
Authenticate-Nak
Answer – D
Explanation – You will receive an Authenticate-Nak message if the username/password pair is incorrect. You will receive an Authenticate-Ack mesage if the pair is correct.
13. Which field carries the PAP username?
Peer-ID
Username
Auth-Pair
Peer-User
Answer – A
Explanation – Peer-ID carries the username, and password carries the password.
14. CHAP is identified by which Authentication-Protocol ID?
0xFFF
0xc223
0xEFF
0x89
Answer – B
Explanation – CHAP is identified as Authentication Protocol c223, which is carried in the Information field of a PPP packet.
15. What does CHAP response Code Type 4 indicate?
Successful authentication
Retransmit password
Failure
Success
Answer – C
Explanation – The four CHAP packet types are 1. Challenge, 2. Response, 3. Success, and 4. Failure.
16. Which command verifies ISDN Layer 3?
show ISDN status
debug ISDN Q.931
show dialer
show IP interface brief
Answer – C
Explanation – The show dialer command verifies that ISDN Layer 3 is working. This is indicated by success under last status.
17. Which command is used to verify ISDN Layer 2?
show ISDN status
debug ISDN Q.931
show dialer
show IP interface brief
Answer – A
Explanation – You can view Layer 1 and 2 information using the show ISDN status command. Layer 1 will be active, and Layer 2 will have valid TEIs.
18. A Basic Rate Interface D channel does what? (Select all that apply.)
Carries low-bandwidth traffic
Provides out-of-band signaling
Determines which B channel to use
Is a 20Kbps channel that provides out-of-band signaling
Answer – A, B and C
Explanation – The D channel carries call setup and teardown information and provides low-bandwidth X.25 traffic.
19. What is the format of the LAPD flag?
7E
AF
FF
9D
Answer – A
Explanation – An LAPD frame starts with 7E.
20. What is the channel configuration of a BRI?
1 B, 2 D channels
2 B, 1 D channel
23 B, 1 D channel
30 B, 1 D channel
Answer – B
Explanation – A BRI is also known as a 2B+D (2 B and 1 D channel).